Now that the studio has been open for 9 months I feel like I've got my outfits down. I'm going to start sharing my go to outfits and what body styles they are good for.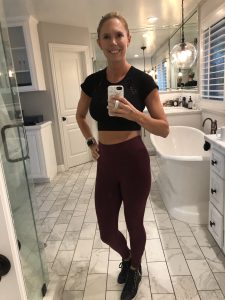 I have become addicted to wedge sneakers. My husband continues to tell me I have too many but I will let you be the judge of that. The sneakers are from Aldo and I love to teach in them as they have a zipper and slide right in and off.
The pants are from Beyond Yoga. They are called Featherweight Spacedye Jogger. These pants are great for little booties like mine or big booty's like my partners. These are more of a 'fall' style with the color. They are soft, they suck you in and they have a cute zipper embellishment at the ankle. I wanted to buy these in every color but I contained myself so I could get a different style to review for you.
This crop top is an alibaba.com special. It looks high end, and feels high end but only cost me $88. I think if you wear higher waisted pants this top is for anybody type. If you're got the confidence and can tuck a roll into your pants rock it!!