Hey, fellow pals and baby-loving friends! I recently got my hands on Primary's The Short Sleeve Baby Tee, and I couldn't wait to share my thoughts with you. It has quickly become a staple in my BFF's baby's wardrobe, and let me tell you, this tee is a game-changer in terms of comfort and style.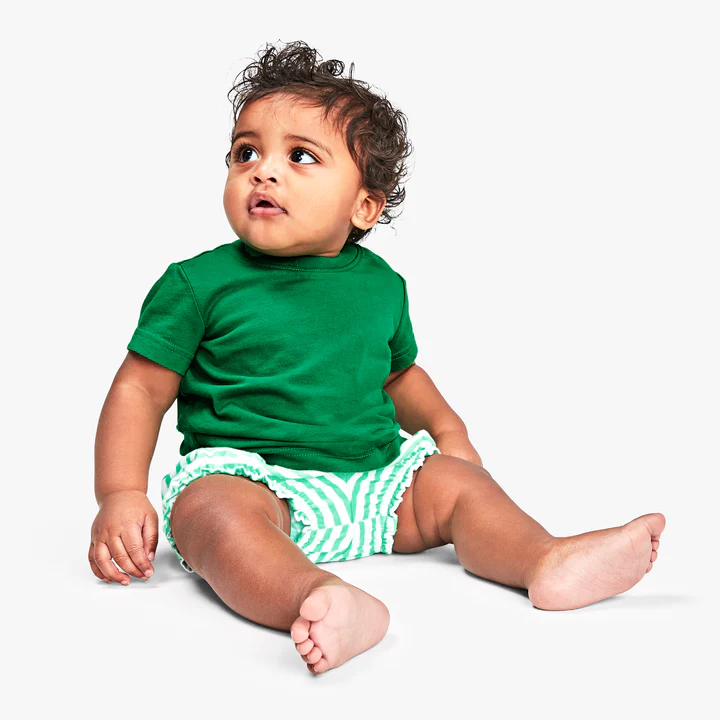 Unbeatable Softness and Breathability:
Okay, guys, let's talk about how ridiculously soft this tee is. I mean, seriously, it's like wrapping a baby in a cloud of coziness. My BFF's little one is all smiles when they wear it, and I'm pretty sure the softness has something to do with it. The fabric is 100% cotton jersey and feels incredibly gentle against their delicate skin. Plus, it's breathable, which is perfect for those hot summer days. I might have to get one for myself, too! LOL!
A Splash of Vibrant Colors:
Now, let's discuss the colors. Primary has truly nailed it with their unique and eye-catching shades. I swear, they make my BFF's baby look even more adorable (if that's even possible!). From soft pastels to bold and bright tones, this tee is a feast for the eyes. I can't help but gush about how cute they look in every color. It's like a mini fashion show every time we dress them up!

Style Meets Convenience:
Here's the best part, my friends. The tee is not only stylish but also designed for convenience. Whoever thought of those shoulder snaps deserves a medal! Dressing and undressing a squirming baby has never been easier. The snaps make it a breeze to slip the tee on and off, saving us precious time and sanity. Seriously, it's the little things like this that make a world of difference.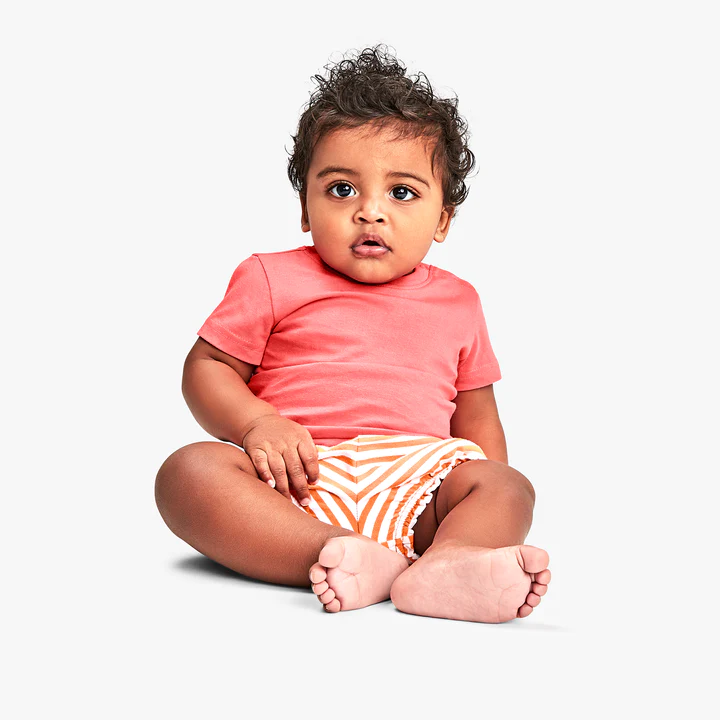 Just One Tiny Thing to Note:
Okay, I have to be honest with you all. There's one minor thing to keep in mind. The Short Sleeve Baby Tee runs a bit small, so you might want to size up. We learned this the hard way when the tee arrived and was a tad snug. But hey, no biggie! We simply exchanged it for a larger size, and now it fits like a charm. So, don't forget to keep that in mind when you order.
In a Nutshell:
To sum it up, my BFF's baby is head over heels in love with Primary's The Short Sleeve Baby Tee, and I can see why. It's ridiculously soft, comes in the most delightful colors, and those shoulder snaps are a game-changer. If you want your little one to look cute as a button while feeling comfy, this tee is the way to go. Trust me, you won't regret it!
So, go ahead and treat your BFF's baby (or your own little munchkin) to Primary's The Short Sleeve Baby Tee. They'll thank you for the cozy comfort, and you'll thank yourself for finding such a gem. It's totally worth it, and at just $12 per shirt, it's a steal!