Hey there, fellow travelers and fashion enthusiasts! Today, I'm excited to share my personal journey with the Béis Travel Commuter Duffle in the chic shade of beige. If you're looking for a versatile and stylish companion for your adventures, keep reading to discover how this duffle bag made my travel experiences even more enjoyable!
Elevate Your Travel Game: The Commuter Duffle's Allure
Let's kick things off with the undeniable allure of the Béis Travel Commuter Duffle. Its sleek design and neutral beige color caught my eye from the start. This isn't just your average duffle bag – it's a fashion statement that complements any travel outfit, from casual to sophisticated.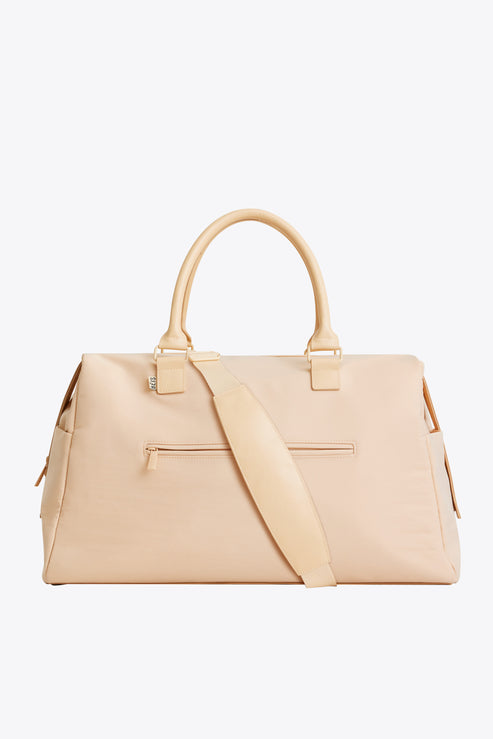 Size matters when it comes to travel bags, and the Commuter Duffle strikes a perfect balance. It's not overwhelmingly large, making it ideal for shorter trips or as a carry-on. But don't be fooled by its compact appearance – this duffle surprised me with its generous interior space. I comfortably fit my essentials, a change of clothes, and even a few souvenirs on my return journey.
The Not-So-Secret Compartment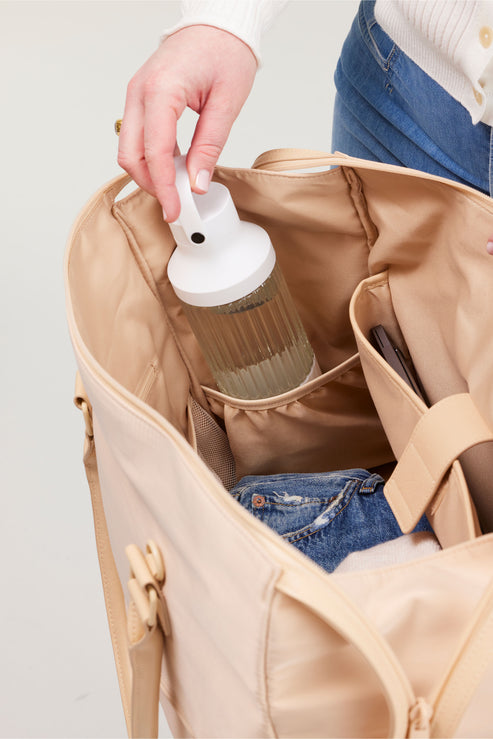 Now, let's talk about one of my favorite features – the multiple compartments. The duffle boasts an outer zippered pocket for easy access to items like my passport and boarding pass. Inside, the main compartment features pockets for shoes and smaller essentials. This level of organization ensures that everything has its designated spot, making it a breeze to find what I need, when I need it.
A Matter of Comfort: The Carry Options
Comfort is key when you're on the move, and the Commuter Duffle excels in this department. It offers both sturdy top handles and an adjustable shoulder strap, giving you the flexibility to carry it in whichever way suits you best. The padded shoulder strap adds an extra layer of comfort during those long walks through the airport or city streets.
A Balancing Act
While I absolutely adore the Commuter Duffle, I'd be remiss not to mention a few minor drawbacks. The beige color, while stunning, does require some extra care to keep it looking pristine. A bit of dirt and scuffs showed up more prominently on the light shade, but with a little TLC, they were easily removed.
Where to Next?
As I continue my journey with the Commuter Duffle, I'm excited to explore new destinations while turning heads with its elegant design. Whether I'm hopping on a plane or heading for a spontaneous road trip, I'm confident that this duffle will continue to exceed my expectations.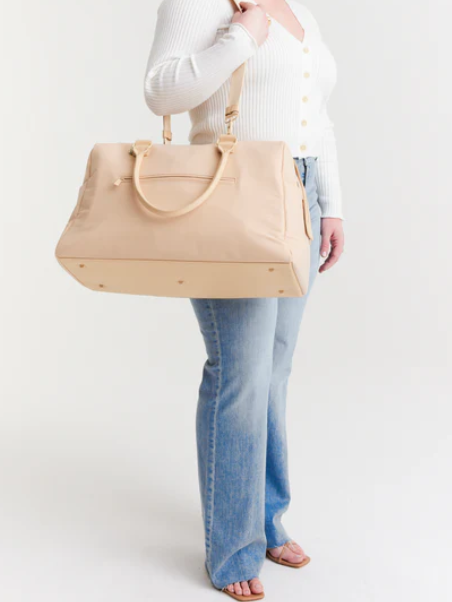 All in all, my experience with the Béis Travel Commuter Duffle in beige has been incredibly positive. For only $138, it effortlessly blends style and functionality, making it an essential addition to any traveler's collection. From weekend getaways to business trips, this duffle is a reliable companion that ensures I'm always prepared and looking stylish. Embrace the adventure with a bag that's as stylish as it is practical.