Hey there, fellow shoe lovers! I couldn't wait to spill the beans about my personal journey with Tieks ballet flats. These babies have become my go-to shoes for their incredible versatility, craftsmanship, and unbelievable comfort. Sure, they might come with a slightly higher price tag, but let me tell you, every cent I spent on them has been worth it. So grab a cup of tea, sit back, and let me take you through my Tieks adventure!
Flexibility: A Match Made in Foot Heaven:
Picture this: a shoe that moves and grooves with your feet like a dance partner. That's exactly what you get with Tieks. Their split-sole and flexible midsole are like magic, adapting to the natural contours of your feet with every step. Oh, and did I mention how they effortlessly fold up? Yup, you can stash them in your bag or suitcase without breaking a sweat. Comfort and style at your fingertips? Count me in!
Durability: Ready for Any Adventure:
I'm all about exploring, and Tieks have got my back (or rather, my feet) in the durability department. Those thick non-skid rubber outsole patches, in their trademark Tiek Blue color, give me the traction and shock absorption I need to conquer any terrain. Whether I'm pounding the city pavement or taking a nature hike, my Tieks keep me steady and grounded. And the best part? They fold and unfold without losing their mojo. Now that's what I call long-lasting love!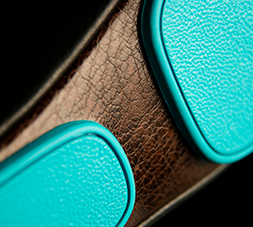 Comfort: A Hug for My Feet:
Finding comfy flats used to be a mission impossible, but Tieks changed the game. These babies stretch and mold to my feet like they were custom-made. And here's the real kicker: instead of elasticized backs that can sometimes feel tight and uncomfortable, Tieks have cushioned backs that are a dream. No more pesky heel discomfort! Oh, and the insoles? Pure bliss. The advanced foam cushioning feels like I'm walking on fluffy clouds all day long. Who needs heels when comfort looks this good?
Style: Where Fashion and Comfort Collide:
Now, I don't know about you, but I refuse to sacrifice style for the sake of my poor feet. That's why I fell head over heels for Tieks. They've got over 60 prints, patents, and classic designs to choose from, making my shoe dreams come true. Crafted from luxurious Italian leather and textiles, Tieks effortlessly transition from day to night, season to season. Whether I'm jazzing up a special event or simply sprucing up my everyday ensemble, my Tieks add that touch of pizzazz and flair that turns heads.
The Worthwhile Splurge:
Alright, let's address the elephant in the room: Tieks do come with a slightly higher price tag. But you know what? I'm convinced they are worth every penny. The craftsmanship, attention to detail, and sheer quality of these flats make them an investment rather than a mere purchase. With Tieks, I'm not just buying shoes; I'm investing in a trusted companion that will be by my side for years to come.
My Final Thoughts:
To wrap it up, Tieks ballet flats are a game-changer. They have transformed my shoe game with their flexibility, durability, comfort, and undeniable style. Yeah, they might cost a bit more, but trust me, once you experience the joy of wearing Tieks, you'll never look back. So treat yourself, kick off those uncomfortable shoes, and join the Tieks tribe. Your feet will thank you, and you'll be strutting in style like never before.
Give Tieks' ballet flats a try! Prices start at $185.