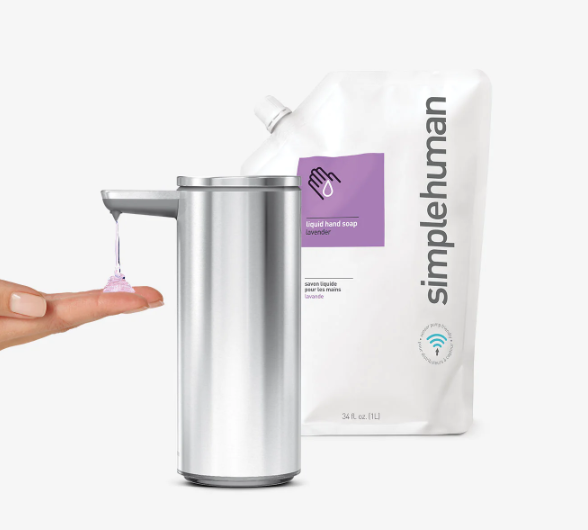 Hey there, eco-conscious friends! Today, I want to share my experience with Simplehuman Lavender Liquid Hand Soap, a product that not only keeps my hands clean and fresh but also aligns with my commitment to a greener lifestyle. As someone who believes in making small changes for a healthier planet, finding eco-friendly products for everyday use is a top priority. So, let's dive into the details and discover how this hand soap has become a staple in my sustainable journey.
Ingredients
First things first, let's talk about the eco-friendly aspect of Simplehuman Lavender Liquid Hand Soap. It's formulated with natural ingredients and contains no harmful chemicals or toxins. Knowing that I'm not introducing any harmful substances into the environment gives me peace of mind. Plus, the lavender scent is derived from essential oils, creating a pleasant and soothing aroma that adds a touch of relaxation to my hand-washing routine.
Performance & Packaging
Now, onto the performance of the soap. The Simplehuman Lavender Liquid Hand Soap effectively cleans my hands, leaving them feeling refreshed and moisturized. The gentle formula doesn't strip away natural oils, ensuring my skin stays soft and supple. I appreciate how a little goes a long way, as the soap lathers beautifully, making each bottle last longer. It's an eco-friendly win-win!
The packaging of this hand soap deserves a special mention. Simplehuman has always been committed to sustainable solutions, and their hand soap is no exception. The refillable soap dispenser is made from recycled plastic, reducing waste and promoting a circular economy. The refill pouches are also made from recyclable materials, further minimizing environmental impact. I love how I can easily replenish my soap supply while reducing plastic waste at the same time.
Scent
While Simplehuman Lavender Liquid Hand Soap ticks all the right boxes for me, it's important to note that individual preferences may vary. Some may find the lavender scent too strong or not to their liking. However, it's worth mentioning that Simplehuman offers a range of other scents to choose from, ensuring there's something for everyone's olfactory preferences.
In Conclusion
Simplehuman Lavender Liquid Hand Soap has become a trusted companion on my journey towards a greener lifestyle. Its eco-friendly formulation, effective performance, and sustainable packaging make it a true winner in my book. While scent preferences may vary, the overall positive impact this hand soap has on the environment and my well-being is undeniable.
So, if you're looking to make a conscious choice for the planet without compromising on quality, I highly recommend giving Simplehuman Lavender Liquid Hand Soap a try. It's a simple yet impactful way to support sustainability while keeping your hands clean and happy.
Here's to a cleaner world for as low as $20, one hand wash at a time!