Finding the perfect balance between style and comfort in women's fashion can often be a challenge. However, Ministry of Supply's Women's Velocity Pull-On Pant effortlessly combines chic aesthetics with exceptional comfort. In this review, we will explore the notable features of these pants!
Effortless Style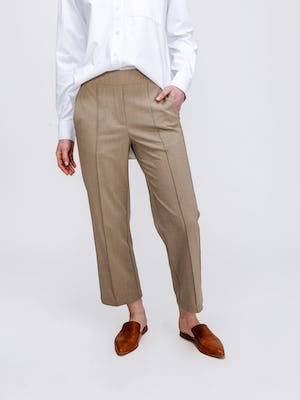 The Ministry of Supply Women's Velocity Pull-On Pant exudes a casual chicness that effortlessly elevates your everyday fashion. The sleek and streamlined design, coupled with its versatile color options, allows for easy integration into various outfits. Whether paired with a crisp blouse or a relaxed sweater, these pants effortlessly transition from the office to social gatherings, making them a versatile staple in any wardrobe.
Uncompromised Comfort
One of the standout features of the Velocity Pull-On Pant is its exceptional comfort. Crafted from a blend of high-quality materials, these pants offer a soft and gentle feel against the skin. The stretchy fabric ensures unrestricted movement, allowing you to go about your day with ease and confidence. The pull-on design eliminates the hassle of buttons or zippers, providing a comfortable and flexible fit that contours to your body.
Practical Functionality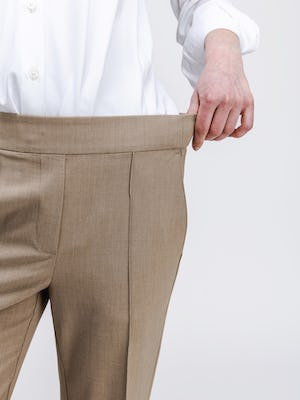 Ministry of Supply pays careful attention to the functional aspects of their clothing, and the Velocity Pull-On Pant is no exception. With a discreet zippered pocket, these pants offer a convenient and secure storage solution for small essentials such as keys or cards. The wrinkle-resistant fabric ensures that you maintain a polished and put-together appearance throughout the day, eliminating the need for frequent ironing or steaming.
Room for Improvement
While the Ministry of Supply Women's Velocity Pull-On Pant offers many positive attributes, it's important to address potential areas for improvement. Some users with petite or taller frames have expressed a desire for additional length options to ensure a perfect fit. Additionally, although the pants provide ample comfort for everyday wear, individuals seeking more structured support may find the elastic waistband to be less secure than traditional waist closures.
Versatile and Sustainable
These pants from Ministry of Supply are designed with versatility and sustainability in mind. The timeless style ensures that they remain a wardrobe staple for years to come, reducing the need for frequent replacements. Moreover, the brand is committed to ethical manufacturing practices and using eco-friendly materials, contributing to a more sustainable fashion industry.
Conclusion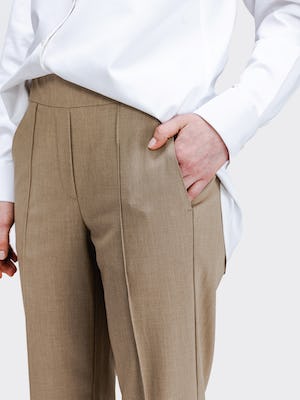 The Ministry of Supply Women's Velocity Pull-On Pant seamlessly combines casual chic style with unmatched comfort. Whether you're heading to the office or going out for a social occasion, these pants provide a versatile and fashionable option. While there is room for improvement in terms of size inclusivity and waistband security, the overall appeal and quality of the Velocity Pull-On Pant cannot be undermined. Embrace the perfect blend of style and comfort with Ministry of Supply for as low as $188, and elevate your everyday fashion effortlessly.