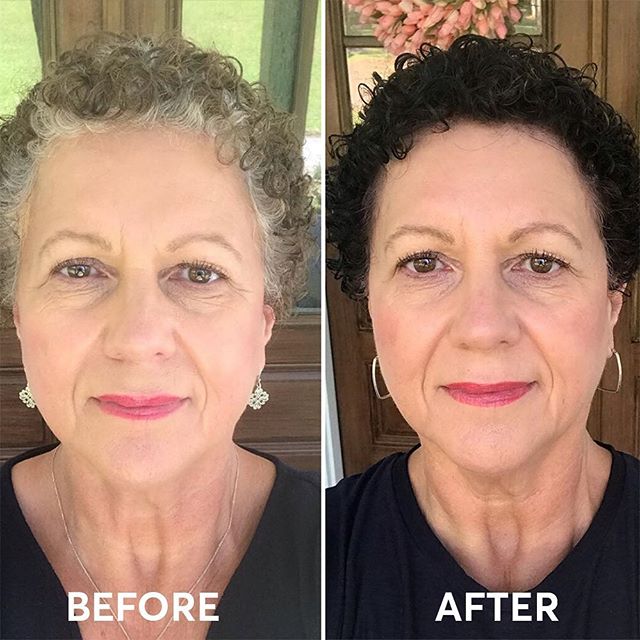 Struggling with gray hairs? Keeping gray hairs covered is a serious commitment! Ideally, they need to be done every 8 weeks since they're so hard to cover and grow back pretty quickly. But, getting your hair done at a salon that often can really add up the expenses.
Madison Reed's home coloring kit is perfect for covering gray hairs. The kit comes with a cap, gloves, cleansing wipes and a barrier cream to protect your forehead from getting stained with hair dye. All delivered to your door!
Madison Reed's dye is free of ammonia, parabens, PPDs and is infused with argan oil and ginseng root extract to protect the quality of your hair. Their dye doesn't smell like chemicals and it's not as harsh on your hair as drugstore hair color.
Here are 5 tips for covering grays at home like a pro with Madison Reed's home coloring kit. 
5 Tips for Covering Grays
1. Apply the dye to your roots first. Your roots are going to need more time with the hair dye on then the rest of your hair.
2. Find good lighting! The last thing you want is to be left with gray hairs you missed because the lighting was bad. Go for natural light near a window or turn on all the lights in your bathroom.
3. Protect the skin surrounding your hairline. A forehead stained with hair dye is a key giveaway that you dye your roots. If you've stained your skin with hair dye before, you know it lasts for a few days. Madison Reed has a barrier cream to protect your skin from hair dye.
4. Grab another mirror. Using a handheld mirror will help you to see the back of your head ensuring that you don't miss a spot!
5. Find the right hair dye. Once you find the right hair dye and formula, it makes the process a lot more seamless and much less nerve wracking. The more you color your hair with the same dye the better it'll get and the easier and more consistent the process will become!
Finding the right hair dye makes the process of covering your grays a lot easier. With Madison Reed, the results rival hundred dollar salon dye jobs for a fraction of the price.